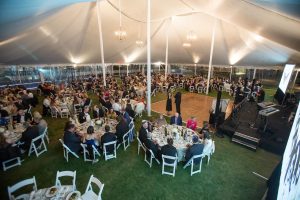 Livermore Valley, October 3, 2017 – The Livermore Valley Winegrowers Foundation and the Wente Foundation for Arts Education are pleased to announce that together they raised $450,000 for under-served East Bay children at the 23rd annual Livermore Valley Wine Auction on September 23, 2017. This year's total represents a significant increase from the $325,000 raised at the event in 2016, and the highest amount ever raised at this annual event. In addition, this year brings the total raised over the event's history to approximately $5 million.
The two host foundations will present checks to the following beneficiaries at a special check presentation event on January 10, 2018: Camp Phoenix; George Mark Children's House; Livermore Valley Performing Arts Center; SonRise Equestrian; and Tri-Valley schools, for the purchase of new musical instruments.
"We're thrilled with the success of the Livermore Valley Wine Auction and we appreciate the generous participation of our Livermore Valley wineries, guests, donors, and sponsors. We're already looking forward to next year. Save the date for September 29, 2018!" says Christine Wente, Auction Chair.
The success of this year's event was due to generous contributions from many individuals and companies, including the Priem Family Foundation and the Reed Family, the event's Master of Wine sponsors. The following Master Sommelier sponsors also supported the event: Black Tie Transportation, Celebrity Cruises, Diablo Magazine, Dublin Chevrolet, FedEx, Gallo Glass and The Rose Hotel. The event moved this year to the Wente Vineyards Event Center on Arroyo Road in the Livermore Valley, a much larger venue, to enable more guests to attend.
The evening started with wine tasting hosted by 18 Livermore Valley winemakers who poured their best wines while the guests perused the silent auction lots. Then the guests enjoyed a beautiful dinner and lively bidding on 21 live auction lots, followed by a successful fund-a-need for Camp Phoenix that raised $73,000 alone.
Beneficiary applications for the 2018 Livermore Valley Wine Auction can be found at lvwf.org and are due December 1, 2017. Organizations that support under-served East Bay children are encouraged to apply.
The mission of the Livermore Valley Winegrowers Foundation is to raise funds to improve the quality of life for under-served local children. The mission of the Wente Foundation for Arts Education is to provide support for arts education programs in the Bay Area. For more information, please contact Brandi Addington, Auction Manager, at auctionmgr@lvwf.org or (925) 321-8338.